E-commerce and Content Management Systems have traditionally been segregated platforms with different processes and focus. As a result, many brands and businesses today suffer from 'Two-Site Syndrome,' where their "discover" and "explore" phases of the customer journey are disconnected from the "buy" phase, leading to a fractured digital experience.
Today, the desire for truly consistent omnichannel experiences has rendered the "old way" of creating content for a single channel futile. Serving integrated, evolved, and consistent content to commerce experiences to win the love, loyalty, and wallet share of the digitally-distracted consumer has become the new holy grail. This lofty aim calls for successful integration of e-commerce and content management platforms.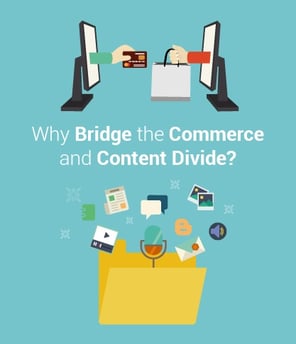 6 Top Reasons to Bridge the Commerce and
Content Divide
To unify experience between brand exploration and conversion

a

cross channels

To deliver extremely relevant and

engaging

personalized customer experiences

To support rich product-based marketing content alongside the merchandising, pricing, and inventory data that drives conversions

To increase conversion by serving product and non-product content at all stages of the customer lifecycle, enabling them to make purchase decisions

To lower the cost of maintenance dramatically

To boost the outcome of your e-commerce efforts
E-commerce platforms support transactional interactions, including complex product catalog, pricing, sophisticated merchandising, promotions, and fulfillment, where as content platforms support non-transactional interactive experiences, including marketing content, campaigns, catalogs, coupons, web pages, rich media, mobile apps, and user-generated content. Integrating these standalone platforms to deliver breakthrough content to commerce experiences is challenging for most brands because "Content Workflows" cut across multiple layers of the Enterprise stack. Meanwhile, if brands don't evolve into this new way of connecting with consumers, they may end up in the wrong side of history.
This is why you must learn from innovative, customer-focused brands that are delivering extraordinary digital experiences by bridging the Content and Commerce divide. Download the guide below to dive deeper into content to commerce integration and discover few industry-leading Fortune 500 brands deliver content-rich digital customer experiences partnering with Photon.