By Srinivas Balasubramanian, Co-founder and CEO, Photon
Interviewed in July after SAP's annual user event SAPPHIRE, SAP Europe President Franck Cohen stated the obvious: "I think there is a trend for digital." More tellingly, Franck acknowledged that SAP's large system integrator partners need new skills and that "it is much easier for them to continue to sell consulting hours on SAP Financials"
Over the last twenty years, ERP systems from SAP and Oracle have dominated the budget and architecture of IT in large corporations. As a result, we see the following outcomes:
A very limited portion of the technology budget (10% according to Gartner) is available for innovation while most of the budget goes towards maintenance or enhancements to current systems – annual tax paid to SAP and Oracle
The systems are designed for automating processes (e.g. Accounts Payable), not for creating new products, entering new markets or generating new revenue
The system capabilities are available only through the vendor's proprietary "one size fits all" APIs when APIs are available at all

The architecture and the application components provide limited to no ability for corporations to leverage the cost, agility and customer experience advantages of the recent developments in mobility and cloud.
ERP-era Architectures Fail Digital Test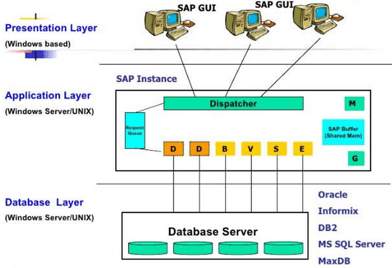 Yet, global ERP spending in 2014 was $27.7B in software licenses alone and total enterprise spend on software that mostly share the above characteristics is $337B in 2015. It is easy to see why SAP and its system integration partners feel the inertia – there is still too much money to be made automating back-office and like functions.
The good news is that there are strong voices starting to speak up on the importance of freeing IT from the ERP-era budget allocation and IT architecture constraints. They are calling for getting aggressive about digital.
Cisco's John Chambers stated that "Information technology no longer just enables your business strategy, it is your business strategy" and predicted that 40% of today's businesses will fail in ten years because they don't go aggressive on digital or don't do digital right.
Box CEO Aaron Levie writes that a trillion dollar opportunity is emerging to companies helping enterprises go digital and exhorts businesses to innovate and launch new products and/or extend existing products that incorporate an information and digital dimension into them.
McKinsey & Co is warning "older companies [struggling] to meet customer expectations" should take on attackers through innovation in digital business models and explains implications to enterprise IT architecture.
The founding team at Photon had foreseen the impending sea change over a decade ago. In our earlier business at Infravio, we did pioneering work helping early adopter businesses gain value from service exposure through well-designed APIs. And throughout our time at Photon, we have aggressively counseled and helped our customers prepare for the digital age by:
Helping businesses develop digital presences starting with the mobile app to engage the customer through every medium the customer wishes to engage with the business
Recommend and implement a wide range of innovations that help the business offer new or expanded digital products and capture more share of customer

-

wallet

-

leveraging technologies such as IoT
Assist businesses with blueprint to shift to two-speed architecture with micro-services API separation to allow rapid innovation at the customer touch points.
More recently, we are helping customers with dynamic personalization – leverage analytics to interact with every customer as if your entire business is set up for that customer's convenience – a powerful model for customer engagement that's the way forward.
At the beginning when we were promoting our ideas, we were the lone voice. It is heartening for us to see the chorus of heavyweights joining us now, lending support to our position.