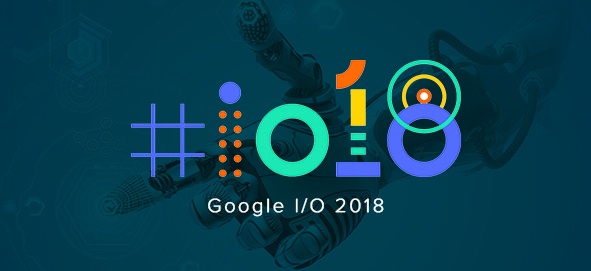 The last decade was about a Mobile-first world where smartphones were leveraged to improve customer experiences and increase brand engagement. For the next decade, the shift will be towards AI interfaces as customer engagement moves beyond a Mobile-first approach. In today's digital age, customers are on their smartphones 24/7. To keep up with these trends, Google recently organized Google I/O 2018, an annual developer conference, and bolstered its innovation drive to use AI technologies, machine learning and natural language processing to power new digital experiences.
Video reference: Google developers / https://www.youtube.com/watch?v=ogfYd705cRs
---
Some of the key takeaways from the Google I/O conference are as follows: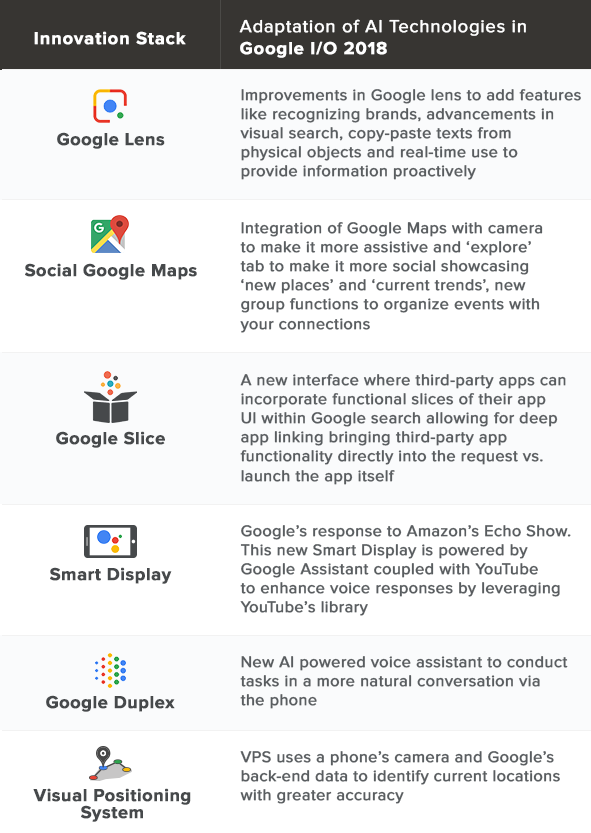 ---
Continued conversation unlocks new capabilities for enterprises to engage customers
Google I/O 2018 made it clear that AI technologies will continue to play a crucial role in the future of customer experiences. Voice assistants continue to rise in popularity and usage with advancements to better understand user queries. Google Assistant now supports "continued conversation," allowing for more natural two-way conversation. Continued Conversation is enabled with the capability to process multiple user requests at once and not have to say "Hey Google" at each request. This enables users to have a more natural conversation flow when interacting with Google Assistant, shopping, researching, requesting news, or asking for assistance on a task. This new advancement in AI will continue to remove common frustrations found with conversational interfaces and make interactions feel more human.
Google Lens can revolutionize shopping experiences for customers around the world
Google has combined the smartphone camera with AI to create a new remarkable visual-search function called "Style Match." When a user points their phone's camera at an outfit or accessory, Google uses its object recognition and machine learning capabilities to help identify that particular product for purchase or show similar styles that you might like. Through Google Shopping, retailers can enable consumers to buy specific products which they can easily discover with the help of Google Lens. No more guessing what pair of shoes you saw on someone else while you were at a lunch or walking to work.
Visual Positioning System (VPS) can help consumers find nearby stores easily and more quickly
Google introduced a new geolocating system called "Visual Positioning System" that enables users a street view to quickly locate themselves and the businesses around them. VPS has the capability to take into account crucial information such as storefront displays to street signs in order to precisely map out a route—even when a user steps out of a subway. Immediately VPS will pinpoint the right direction and recalibrate the path to take.
Google Maps now has the ability to provide more immersive experiences
The new version of Google Maps provides a more personalized approach with quick recommendations. The new "Your Match" feature has the power to show users likely places they will enjoy, along with the reasons why this place was selected. When a user clicks on a specific place, Google Maps compares what it knows about that place (user ratings, the nearby businesses and restaurants) with your past usage to identify which places seem more likely the user would like. The higher the correlation, the more likely the user will enjoy the place. As more like-minded people use the app, Google Maps will use machine learning to continue to refine the suggested places and making it smarter over time.
Google Slices will help perform tasks faster
With Android P, Google is taking an ambitious approach to its UI design with the launch of new API: "Slices." Slices are third-party UI snippets of functionality that can be accessed from within Google Search and other places like Google Assistant. Slices enable users to perform quick, third-party app tasks faster without leaving Google. For instance, you won't need to open the Lyft app to perform a simple action like booking a ride.
Today most of the Google products—Google Maps, Google Photos, Google Search, and Google Cloud Platform—are incorporating AI with Machine Learning to provide immersive, interactive and personalized experiences across channels, devices and touchpoints. As Google continues to advance the maturation of AI, new frontiers in hyper-personalized customer interactions will surface. At Photon, we are already engaged in a wide array of Artificial Intelligence-powered digital experiences with our Fortune 100 customers.
Connect with us to learn how these new Google features will impact your digital experiences and the immediate benefits that AI-powered experiences can have on your business.
---
Video reference: https://www.youtube.com/watch?v=ogfYd705cRs / Google Developers