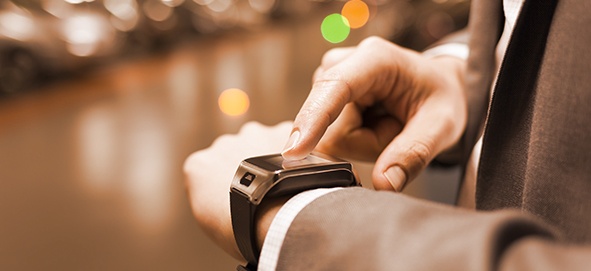 The unstoppable digitization of our physical world has persistently changed how we live, travel, work and interact with each other. Rapid advancements in digital solutions have given rise to the Internet of Things (IoT), a global network of intelligent connected devices that enable people and places to connect in ways never thought possible. This creates an opportunity for enterprises across the world to reimagine their products and services, collect new types of data, power new front ends, develop new business models and improve customer experiences.
Rejuvenating the Customer Journey with Connected Devices
Gartner forecasts that by 2020, 20 billion connected devices will be used worldwide. These connected devices are not just smartphones or tablets, but dedicated objects such as connected cars, home appliances, drones, vending machines, etc. However, the biggest barrier to incorporate IoT strategies is most enterprises do not know how to use this technology and create automated intelligence systems.
Through this blog, we take an in-depth view of how to harness the power of Internet-of-Things and build a foundation that creates new business opportunities, revenue models and increased consumer convenience.

Today, the emergence of IoT is driven not only by one specific technological advancement but by the rise of an entire digital ecosystem, including developments in data collection, aggregation, sharing, as well as, data processing platforms that have the capability to generate smarter solutions. IoT will power important dimensions to achieve:
Customer expectation

Product effectiveness

Services enhancement

New datasets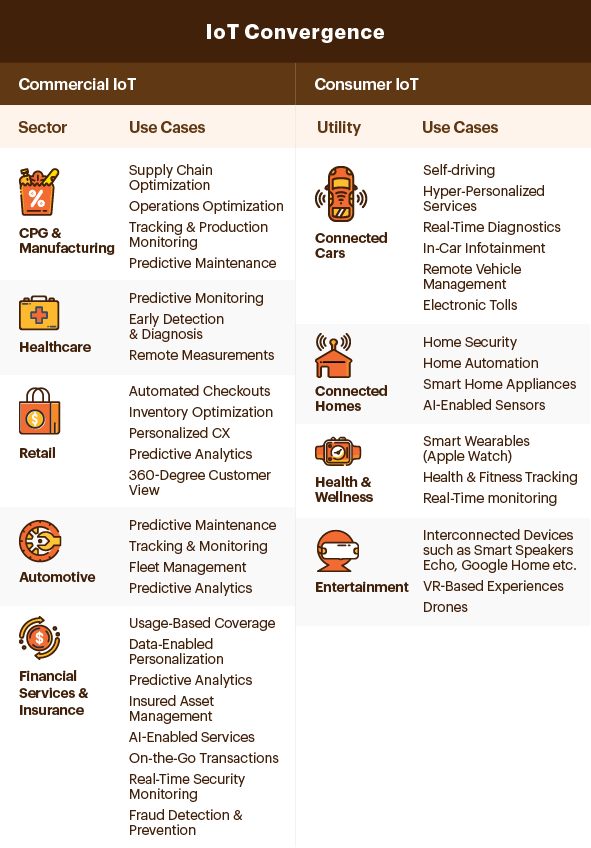 Connected Home
In a connected home, the mundane daily tasks are outsourced to a device.
For example, a smart air conditioner monitors the temperature of a room, connected and controlled by a smartphone app or other connected home systems. In a more robust IoT environment, the AC would use intelligent Cloud services to combine weather forecasts, set the predictive temperature accordingly to control and minimize energy consumption, thereby reducing costs. In times of heavy rain or cooler than expected temperatures, the AC might self-control the temperature of a room. Such use cases represent huge opportunities for enterprises to innovate new connected products and services.
However, the more connected devices there are, the more chance they have to be controlled and operated through multiple apps. As a result, enterprises have to look for one app in order to create a single integrated smart and intelligent ecosystem. Photon's IoT experiences recommend combining the API ecosystem with Cloud-based services that give you the ability to launch new integrated digital apps and deliver seamless experiences to your customers.
Connected Car
The connected car ecosystem is a game-changing initiative that leverages the power of Artificial Intelligence, Big Data Personalization and Cloud technologies to interact with the outside vehicle environment, the occupants, and provides convenience, safety, entertainment, and robust connected life experiences.
By 2023, the number of existing connected cars is expected to reach 342.6 million Gartner predicts that by 2021, 10% of all new vehicles will have the autonomous driving capability (compared with less than 1% last year.). One of the key differentiators in a connected car ecosystem is the abundance of available data which acts as an information hub. This data can be transmitted in real time over a Cloud-based information system, which can be further analyzed to provide actionable insights into predictive maintenance, vehicle health, and customer behavior.
Photon helps automotive companies create new ways to operate that boost efficiency by analyzing a vast amount of data - quickly and efficiently. Fortune 100 automotive manufacturers leverage Photon's rich domain experience to:
Gain a holistic view of the vehicle, car owners, and supply chain partners

Break down silos to develop new agile business models and revenue streams

Integrate digital across operating models: Manufacturing, Quality Control, Supply Chain Management, and Predictive Maintenance

Identify multiple channels to connect and interact with today's car owners and provide personalized driving experiences
Connected Health & Wellness
Wearable devices can track how many steps you take in a day, monitor your heart rate, and count calories to determine dietary habits. For example, the recently launched Apple Watch Series 4 has the ability to take ECG (electrocardiogram) readings. IoT devices coupled with AI not only analyze and predict a wearer's health condition but can also recommend actions with little to no human intervention.
Photon's expertise in wearable and connected technology helps healthcare providers and patients access health history, quality care options, operational efficiency, all while enabling real-time monitoring and optimization. Photon also has the ability to use the power of AR/VR technologies to develop mobile apps that interact with AI platforms, empowering healthcare companies to unlock the value of data and machine learning.
How Photon Redefines Customer Experiences by Leveraging the Power of IoT
New Digital Ecosystem: Photon expands customer engagement by leveraging the facilitators of new digital ecosystems. Enabled with capabilities such as Machine Learning, Natural Language Processing and Virtual Assistants (Apple's Siri, Google Home, Amazon Alexa) to provide consumers with enhanced digital experiences.

New Front-end Experiences: Photon integrates APIs to power rapid front-end innovations and IoT experiences, giving you the ability to speed up the launch of new mobile apps, skills, product features, and functionality.

Enhanced Products & Services: Photon helps enterprises approach IoT from different angles—as consumers of fresh lakes of data, as passive contributors of data, or as active IoT ecosystem leaders developing new products and services.

Consumer IoT: Photon's IoT experience guides clients to seamlessly bridge the physical and the digital worlds, to design, develop and roll out enhanced products and services that make using IoT devices more enjoyable, useful, and convenient.
"Photon's IoT experience and engineering expertise help enterprises seamlessly bridge the gap between the physical and digital world to enhance product effectiveness, develop new business models and create hyper-connected solutions that meet ever-changing customer expectations in today's IoT age." Mukund Balasubramanian CTO, Photon
Connect with Photon today to learn how you can embrace powerful IoT strategies to consistently meet the expectations of today's connected consumers and establish a stronger digital presence.
---
Footnotes: