By Srinivas Balasubramanian, Co-founder and CEO, Photon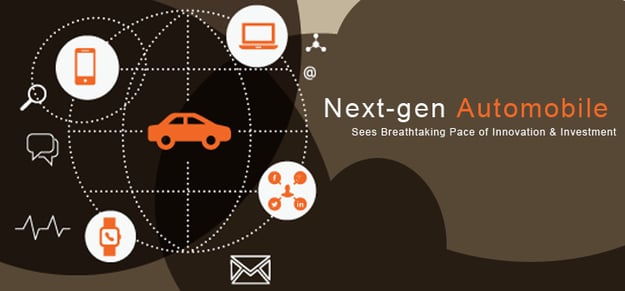 At PhotonWorld 2015, at other forums and in his CTO Blog, co-founder and CTO of Photon, Mukund Balasubramanian has been exhorting Chief Digital Officers and Chief Information Officers at our clients to mind the post-mobile, multi-touchpoint world we are arriving at and the importance of being active across all emerging digital touchpoints for brand relevance.
The multi-touchpoint experiences, driven by the Internet of Things, which already influence consumer perception of brands include smartphones, tablets, wearables with Apple Watch rising to prominence quickly, connected homes and of course next-generation automobiles.
As cars inevitably go more digital, they lose century-long core components like internal combustion engines and transmissions. With a driverless car future looming, they will also lose driver controls such as a steering wheel. Much of the engineering competence of the incumbent automakers becomes irrelevant in the digital car while digital capabilities and user experience design savvy of some of the tech companies do become keenly relevant.
Tectonic shifts are underway as traditional automakers work aggressively to become mobility companies and to make cars that are more digital while tech companies are looking to take a slice of the $2 trillion in annual auto revenue. We are moving from a phase where a car has electronics in it to an age where a consumer digital node will have wheels attached to it. The announcements (hype?) from tech companies related to cars have been fast and furious over the last few months.
The long- term science-fiction like predictions call for driverless cars, "transportation as a service" with ownership becoming less worthwhile, parking garages going away, dramatic changes to production and distribution of energy related to transportation and car accidents becoming a thing of the past – but they are less actionable for you today. While considering your brand engagement, it might help for you to focus your efforts around the connected car.
While electric car sales are seeing rapid growth, their current market penetration is only 5% of US auto sales. Connected car (defined as a car that is equipped with Internet access) represents a much bigger opportunity – getting to 80% of all cars shipped by the year 2020 according

to

a Goldman Sachs Global Investment Research report.
The traditional automakers are spending energy both on customer journey of buying a car and the experience while driving the car. Tesla pioneered the concept of online ordering in the United States and other automakers, similar to retailers before them, are working to make the online and dealership experience for the car buyer to be an integrated experience. The tech companies are focusing on the in-car experience.
The players see the big near-term opportunity to be the $400B a year connected car portion of the total auto market, which is larger than the market opportunity for smartphone, PC and wearables combined.
The leading technologies in the connected car space are Apple CarPlay and Google Android Auto. Microsoft is working to get Cortana voice assistance built-in to cars and showed off a prototype this month.
The primary capabilities that these companies want to provide are (i) maps (ii) entertainment, particularly music (iii) communication and (iv) voice control (e.g. Apple's Siri and Microsoft's Cortana)
Available research shows that consumers spend an average of 6.5 hours a week in the car and that 25% of them are open to receiving advertising in the car if they got value in return. This means that the connected car is a critical participant in the consumer's digital experience continuum and your brand either blacks out or actively engages the consumer in that window. We'd love to hear from you on how you see this impacting your business.