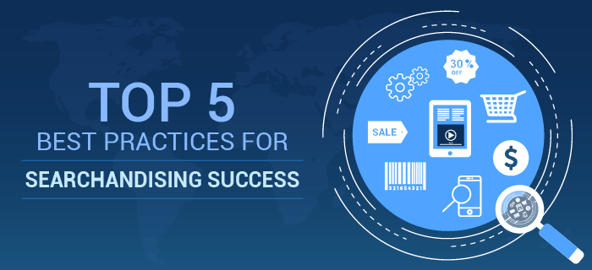 Search can be your one and only interaction with a customer. Make it count.
Incorporating user data, deploying Smart search and discovery functionalities like auto-complete, visual search, self-learning searches can help you create personalized search results and a highly profitable customer experience (CX) without retooling the front end. Searchandising a.k.a. fusing site-search and navigation with merchandising can boost sales, conversion rates, and Average Order Value (AOV). Searchandising can make or break your Ecommerce experience.
A well-planned searchandising strategy is an imperative as successful companies are constantly improving their search techniques to provide better CX and reap better ROI.
Top 5 components of a successful Searchandising Plan
1. Advanced Autocomplete: Over 80% of top-grossing ecommerce sites offer Autocomplete suggestions. Here's how you can gain the edge with advanced features that work beyond prediction of characters to display search results. Refined features like supporting keyboard navigation, avoiding scrollbars, autocomplete search with images, display of search history, matching user's hover expectations while eliminating display of irrelevant and out of stock items increase efficiency of search functionality. These functions influence visitor engagement by increasing speed, accuracy and improves CX.
2. "On-Demand" Searchandising: This type of search feature allows retailers to prioritize products based on relevancy and rankings using SKU, Price, Ratings, Margin Statistics, Inventory level and others. Example: Display products with best conversion rates, highest stock levels or highest profit margin at the top of the page. Extended services available include Cross-selling which recommends relevant products based on behavioral data including previous searches and purchases. Advanced functions include the ability to sort by price, conversions, and other filtering capabilities.
3. Personalization strategies that delight your customers: Majority of consumers want personalized experiences when they shop online. Searchandising combined with automated personalization are advanced personalization tactics that truly influence the purchases of your prospective customers. Determining the purchasing behaviour by recalling their history improves CX and brand engagement of customers. However if someone bought a gift item that was probably a one-time purchase, the customer won't necessarily appreciate the same product being promoted to them continually. A successful search implementation should include better controls by analysing customer's purchase history, profile, segment, their peer group, location, and other demographic or circumstantial information. Read more about Omnichannel Personalization here.

4. Analytics: Analysing how often a product page is opened, the add-to-cart and conversion rates on an individual basis and global analysis of search queries and targeted analysis allows the retailer to measure the effectiveness per line of results returned. Example: "Car Accessories" has been searched for 200 times which has resulted in 10 add-to-cart from result lines 10 to 13. When we analyze these results, it is very prominent that it is not the products listed at the top of the page that necessarily converts more always and the ones lower down have generated more interest. An aggregation functionality allows the ecommerce merchant to generate such sophisticated analytics, which is more powerful than the other existing methodologies.
5. Boost Cross-selling Functionalities: Upselling and cross-selling can contribute up to 30% of the ecommerce revenue and smart use of cross-selling functionality can leverage customer engagement by recommending right products at the right time related to previous searches and purchases. Example: If a user has bought a Smartphone recently, recommendations of relevant products like mobile cases can trigger interest and boost AOV and the benefits extend to the customer's experience as well. Research indicates that upselling performs 20 times better than cross-selling on product pages whereas cross-selling performed much more effective when promoted on the checkout pages than the product pages.
Time and again, industry reports have proven that ecommerce search can be a make or break technology for your ecommerce revenue and operations and brands implementing best-in-class ecommerce searchandising have drastically increased Average Order Value, brand engagement and loyalty. Learn how to transform your search platform using full-text search engine powered by Elasticsearch and optimize your searchandising strategies to drive conversions, revenue and improve Customer experiences. For insights on your digital initiatives, talk to us.