A few years ago, the Mobile revolution took hold and changed the way Consumers, Physicians and Healthcare Providers did business. This changed everything from launch execution planning to customer outreach programs, clinical trials and the efficacy of the salesforce. Now imagine a world where this is multiplied by (at least) 10 times for each individual in the ecosystem. Wearable devices, connected home solutions and in car experiences are recasting every industry as we know it! How will Healthkit, Homekit and their next generation evolutions reshape your future. This is happening TODAY!
As folks that have lived on the bleeding edge of innovation for over a decade, this session shall define the "Art of the Possible" for Healthcare. We will go through some of the reasons for the accelerated pace of innovation in the Digital Ecosystem today. Run through "best in class" Mobile Presences that fundamentally changed health care in the last half a decade. Finally, we will paint the picture of where we are headed, from devices to data that will shape the experience of every participant in the healthcare ecosystem.
Click here to see Mukund Balasubramanian, CTO & Co-Founder, Photon speak at Merck Tech Innovation Summit.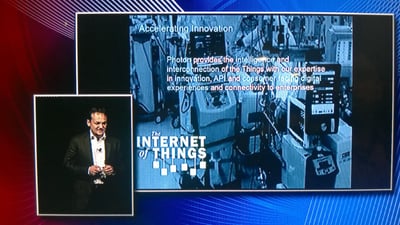 - Video from Merck Tech Innovation Summit 2014