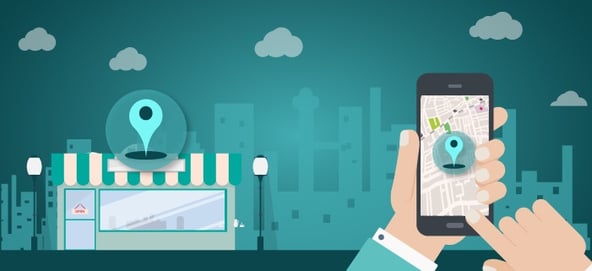 As of 2017, there are an estimated 2.32 billion smartphone users, out of which 80% of shoppers use their smartphones to purchase products. In an age of digital transformation, the retail and financial industries have turned to geofencing to target a wider audience and increase their businesses. Using GPS, RFID (Radio Frequency IDentification), wifi or Bluetooth, geofencing establishes a geographic virtual perimeter around a specific location like that of a retail store.
Geofencing can either be active or passive:
Active geofencing - in this mode when the customers opens the app, businesses are able to track customers via GPS.
Passive geofencing - Geofence runs in the background, however, provides less live customer data providing fewer chances to reach out to the target audience.
How geofencing has transformed the retail industry
Retailers are known to be one of the first amongst many others in using geofencing technology. Using beacons, 71% of retailers have been able to track and study their customers' shopping patterns. In the retail industry geofencing is used for various purposes:
Location based marketing -

Retailers use Geofencing to drive sales

and engage their customers via push notifications, text messages or even email while they are on location in order to provide them with the latest offers and deals. Driving the customer down the conversion path and allowing them to take advantage of ongoing promotions. Sales assistants, outfitted with associate apps, can be notified of customers entering the store and access the customer's profile data (like past transactions or site browse behavior) providing them with key information to approach the customer with a precise idea of their shopping intent.

App personalization -

Omnichannel Personalization

allows for retailers to sync wishlist data to a store visit. For example, as a shopper passes by your retail location an alert is sent out to them to purchase the product or a promotion is signaled on items the customer has shown interest in.

Traffic analytics - Geofencing has opened new analytics to understand the health of a store, monitor traffic patterns outside and inside the store and quickly identify areas of high traffic in-store and realign store plans to make more efficient use of traffic patterns too hot selling items.
Coupons - Real-time promotions can be triggered and adapted based on a variety of data points. Whether it's personalized to past transactions upon entering the store or based on current browse patterns in-store, on their mobile device, or previous online site browsing.
Uses of geofencing in the financial service industry
The traditional method of carrying out financial activities such as bank transactions have long disappeared. To seek loan information, or carry out bank transfers, many individuals make use of their mobile devices. Geofencing has enhanced Customer Experiences in the Financial Service industry through:
Fraud prevention - Geofencing helps to detect the customer's precise location as they approve their transactions. Suspicious activity can be detected easily when transactions are made anywhere aside from the customer's given location.
Identifying HNWIs (High Net Worth Individuals) - when HNWIs step into the geofence perimeter, the organizations are able to identify the customer and provide white-glove service accordingly.
Geofencing to contact customer service - By drawing in customers with offering certain personalized services/products via push notifications, text messages or even email while they are on location driving them to reach out to on-location representatives to seek further information.
Having become an effective method for targeting customers and driving sales, geofencing has helped various industries to personalize and enhance the customer's experience
---
To learn more about geofencing to help boost your on location engagement