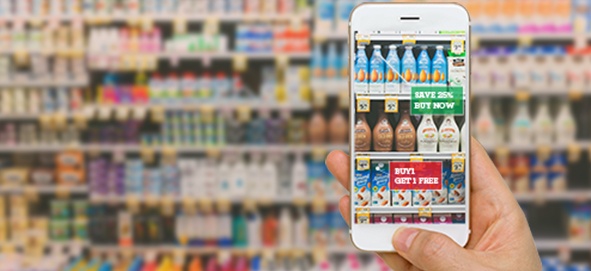 The consumer packaged goods (CPG) industry is undergoing a major transition as next generation of customers are becoming major drivers of new digital experiences through omnichannel retailing, eCommerce and mobile platforms. Based on increasing demand, CPG companies have to create new products leveraging the next generation of digital technologies to deliver hyper-personalized customer experiences. The key to creating a digitally transformed CPG company is to build upon new business strategies to define and execute new construct of capabilities. This allows CPG companies to powerfully engage with customers, integrate digital at the core of their business and ideate new business models including new services and products.

Innovation in CPG industry
With trillions in potential profit as stake, CPG companies are constantly leveraging new digital strategies to transform the core of their business processes. CPG manufacturers are rapidly adapting game-changing digital technologies such as Mobile-first, AI-first, Internet of Things, Cloud-migration, Augmented and Virtual Reality, Robotics, and so on to operate at faster speed and meet new customer expectations. Today 34% of customers are already using AR while shopping and 47% of them use it both in a store and online shopping.

Why Augmented Reality is the next big disruption in the CPG industry
By 2020,1

00 million consumers will shop in augmented realities.

Across the globe, total spending on AR is expected to increase from $11.4 billion in 2017 to $215 billion in 2021.

The economic impact of VR/AR is forecast to amount to

29.5 billion U.S. dollars in 2020.
Leveraging Augmented Reality enables brands to deliver memorable and immersive experiences to drive commerce. AR helps CPG companies to:
Strengthen brand loyalty

-

Show unique features of your products to increase brand transparency and accelerate decision making in the buying process.
Drive consumer engagement

-

Engage your customers with interactive games or 3D altered environments.

Incentivize purchase -

Geo-Location and show promotions and implement coupons in-store to impact consumers' purchasing decisions.

Create Wow Moments

-

Add video or audio to wow your customers and unlock word-of-mouth effects to increase your fans base both in social networks and in real life.
Acquire Customers -

Attract more customers to your online or brick-and-mortar stores by delivering compelling and memorable customer experiences such as virtual try.

Measure data -

Collect 100% measurable data for each and every customer interaction between user and connected devices to ensure you are achieving goals.
Use Cases of AR in the CPG industry
Consumers are the epicentre of the retail and consumer goods industry where digital is deeply embedded into their daily routines. Consumers today expect product information at their fingertips and AR can enhance how product information is delivered for CPG companies. Augmented reality offers an enormous untapped potential for brands to revolutionize their packaging and the way they connect and engage with consumers in today's digital world. Let us explore how various CPG companies are leveraging the power of augmented reality to deliver next generation of hyper-personalized customer experiences:


Digital Catalog - AR based digital catalog enables consumers to scan the products in the catalog and reveal additional information such as product attributes, eco-friendliness, how-to videos, and other content enhancements. Using AR, visual product placement within the user's environment has become table-stakes in the furniture industry. The catalog when combined with AR acts as a way to gauge the correct scale of the furniture within the intended real environment. Thus reducing returns and frustration in the shopping journey.
Product Visualization - Now consumers no longer have to speculate about products with only a static image as AR effectively demonstrates the value of a product with enhanced product visualization. With the help of an AR app, one of the leading footwear companies allows shoppers to 'virtually try-on' shoes. Shoppers can select from a wide range of shoes by simply pointing their smartphones towards feet to see how the virtual shoe will look. They can initiate and complete their purchase within the app. This provides the shopper with a real-to-life retail experience of accessing information, virtually trying on the shoe and making a purchase, all through the power of Augmented reality when combined with a smartphone.
Brand Sponsored Entertainment - With the help of AR, CPG companies can now engage customers with 3D games, lotteries, quizzes, etc. Recently, one of the world's largest toy retailers leveraged an AR app to turn their physical stores into virtual playgrounds. When a customer approaches a designated area of the store, the app activates different virtual games and experiences play on the customer's smartphone. Each week the toy retailer launches different games, featuring new toy brands, within their stores in order to drive repeat engagement in their physical location.

Augmented Packaging - CPG companies are increasingly integrating AR experiences into their packaging process to open new innovative options to market their product and create a compelling impression in the minds of consumers. By turning the product package into a multi-dimensional communication platform, AR creates value and changes how consumers interact with products. With packing being impermanent in nature, augmented reality allows CPG manufacturers to stay relevant by updating product information, design or promotional offers at the click of a button.

How Photon redefines CX with Augmented Realities
Memory Mirror - Photon partnered with a leading US luxury speciality department store to develop a digital mirror which allows users to try on different color options virtually without having to physically try on different outfits. It then allows users to record their virtual look and share it with friends via social media to gain their approval.

Virtual Makeup Try-on - Photon helped develop a consumer facing mobile application for the world's largest beauty company that helps users virtually try-on makeup products. To monetize the app, users can add these products into their shopping cart and then transfer their checkout and finish their transaction at their favorite retailer site.
A key benefit of integrating augmented reality into your CPG product strategy is you are not bound by the physical limitations of your packaging or shelf space. In addition, brands can measure every single interaction between a user and the AR experience. By using AR, CPG companies can successfully turn their product's packaging into an always on content channel. This allows for testing brand content, understanding audience demographics, and drive meaningful data insights into how customers are interacting and engaging with the content.
CPG companies have only scratched the surface of leveraging digital to develop the next generation of hyper-personalized customer experiences. Brands failing to embrace new digital technologies, like AR, will lose market share to competitors that respond and re-invent rapidly.

---
To learn more about the digital impact on the CPG industry, connect with Photon as we are the largest provider of digital experiences. Powering digital transformation for 37 of the Fortune 100 companies.
---
Data Source: Gartner, IDC, Thinkmobiles