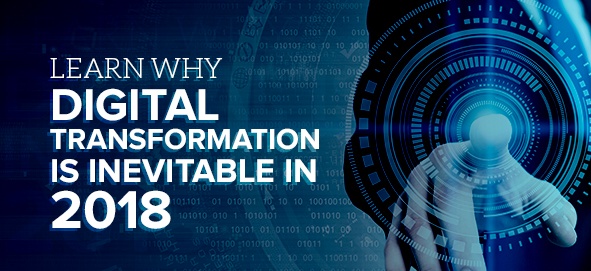 We are heading into an unprecedented time in information technology with new digital realities continuing to accelerate. Latest digital technologies such as Artificial Intelligence, Augmented and Virtual Reality Solutions, Internet-of-Things, Automation, Mobile & Cloud First, APIs and Microservices are set to drive one of the biggest changes since the advent of the iPhone. In the year 2018, enterprises will not return to their sins of the past by launching separate and domain specific initiatives. Instead, they will adapt digital at the core of every business process and old traditional businesses will transform into new digital enterprises.
2017 was a year when leading enterprises from across the globe started to rethink how they envision, deliver and invent disruptive digital solutions. In relatively short period of time, wide adoption of the Amazon Echo and Google Home revolutionized how to connect with the consumer. Today, consumers have the direct access to artificial intelligence in every room of their home, on their mobile device and even in their cars - giving enterprises 24x7 access to touch their customer in any venue at any moment of time. Digital is empowering people with more human technology. It is transforming people to business relationships from provider to peer-to-peer partners. Digital's new strength is in its growing humanity - where digital solutions interact with people, learn from those interactions and adapt for future interactions, thus making the entire customer experience of using technology all the more human. Digital is reality. No longer does technology work for the people, rather it works with them.
As noted by our CTO, Mukund Balasubramanian," In a digitally transformed enterprise, the systems of intelligence layer are the largest area investment for a future which uses machine learning and AI-powered algorithms to unlock the value of data" With effective cognitive technologies the focus now shifts to how new intelligence tools can change business processes.
Digital is the new reality:
By the end of 2019, digital transformation spending is expected to reach $1.7 trillion worldwide, a 42% increase from 2017
By 2020, the proportion of organizations that will have deployed digital-platform strategies will have more than doubled, to over 60%
42% of CEOs have already begun digital business transformation in their respective enterprises
Most of the businesses are looking to the digital future and the continuing changes it brings to their respective industries. Here are the six major reasons why digital transformation is inevitable for enterprises in the year 2018:
1. Artificial Intelligence & Machine Learning go from Newbie to Mainstream
From the promise of autonomous driving vehicles to personal assistants (Alexa, Google , Cortana, Siri and Watson), to the proliferation of devices - AI is making each interface easy and simple- setting new bars how human-machine interactions will work. With each customer interaction becoming more hyper-personalized and useful, Artificial intelligence is fast becoming the next big digital disruption.The advancements in natural language processing, machine learning and AI will make technology more intuitive to use. In the year 2018, AI will keep adding friction less intelligence in every consumer interaction to make interface simple and smart-driving faster adaptation of technology. Also,
70% of enterprises are expected to implement AI over the next 12 months, up from 51% in 2017
By 2019, 40% of digital transformation initiatives will be supported by cognitive AI capabilities
By 2021, more than 50% of enterprises will be spending more chatbot creations than mobile app developments
2. AR & VR continue to deliver new immersive experiences: With the entry of Apple's ARKit, Google's ARCore smartphone AR platforms, and the debut of mixed reality headset, Augmented Reality and Virtual Reality revolution reached a tipping point in the year 2017. AR can change the expectations for how businesses engage customers. In 2018, early adopters can differentiate themselves from the competition by using AR to create new ways of servicing customers or changing how a customer engages a product in their physical space.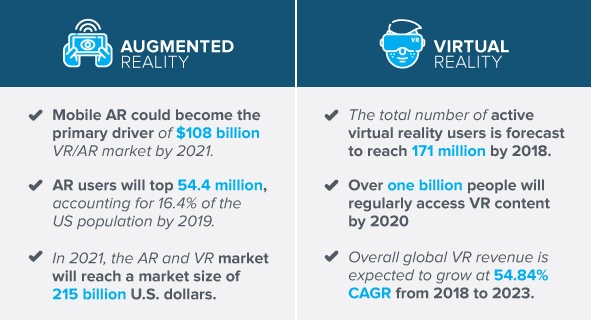 3. Voice spurring the adoption of smart devices: Voice is the next frontier for search and discovery, and there are a lot of opportunities to leverage voice command within the home. The proliferation of voice activated connected devices allows customers to interact within their homes, on a human level. With advances in Virtual Personal Assistants (VPAs), voice has helped in adding an in-depth, quicker and a more personalized layer of customer engagement than the traditional customer interaction.
By the end of 2020, end-user spending on VPA-enabled wireless speakers will reach $2.1 billion

By 2019, half of major commerce companies and retailers with online stores will have redesigned their commerce sites to accommodate voice searches and voice navigation

By 2021, early adopter brands that redesign their websites to support visual- and voice-search will increase digital commerce revenue by 30%
4. Internet-of-Things pushing us to the edge: From data-driven manufacturing to drones delivering products, the business outcomes from intelligent devices have never been such important. Enterprises are successfully leveraging IoT based solutions to deepen their engagement with customers. They are continuously designing new products that connect customers with enterprises. With the continued propagation of devices, the Internet of Things will push for increased digital spend.
By 2021, the global IoT spending is expected to total nearly $1.4 billion

Gartner forecasts proliferation of 20.4 billion connected devices by 2020
North America region is expected to have the highest CAGR in IoT of 36%by 2021
5. Digital is at the core of every business: Today, 22% of CEOs are already taking digital to the core where products and services change with new digital capabilities. Enterprises are continuously taking digital at the core of their business to operate at faster speed. This provides the ability to implement rapid changes to business models in order to satisfy new ways of achieving business and meet new customer expectations on how they are engaged and serviced.
"We are heading towards a future where businesses need to take inspiration from the latest digital innovations and adapt digital at the core of their business to deliver highly-personalized customer experiences", says our CTO, Mukund Balasubramanian.
6. Everything that can be automated will be automated: In 2018, automation will change the ways businesses engage with customers. The advancements in Machine Learning, Big Data analytics, and AI are triggering a new wave of automation possibilities. With ongoing research into AI, robots are gradually becoming more cognitive resulting in intelligent and cognitive automation. Digital transformation spending will emphasize automation.
RPA market to reach $5.1 billion by 2025.

RPA will reshape the workforce. RPA will add 500000 US digital workers.

Autonomous driving technology will continue to grab headlines in 2018.
As technology becomes more sophisticated, it is no longer people who are adapting technology but it is the technology which is adapting to us. The digital revolution ahead is about empowering new ways of human + machine interactions and delivering compelling personalized experiences to meet and satisfy ever changing customer experiences.
To avoid falling behind the competition, enterprises have to rethink how they do business and interact with their customers in the digital era, in which change happens at the lightening speed. Those enterprises that cannot bring digital at the core of their business will keep losing business to competitors that respond and re-invents rapidly. It is therefore crucial, to develop a digital roadmap and begin the journey of digital transformation sooner rather than later. Connect with Photon and learn how to adapt new waves of digital technologies such as AI, Mobile-First, Cloud-Migration, AR & VR with data to deliver highly personalized customer experiences.
---

---
We also invite you to download our "Global Digital Vision 2018" and consider the message-"Integrate digital at the core of your business." This new report envisions the future of digital transformation and provides you with a key technology perspective to bring the latest digital strategies to the core of your digital business transformation journey.
---
Data source: Business Wire, Gartner, IDC, Statistica, eMarketer, Forrester, Techcrunch, Revcontent, Greenbuzzagency, prnewswire, Forbes, Tractica